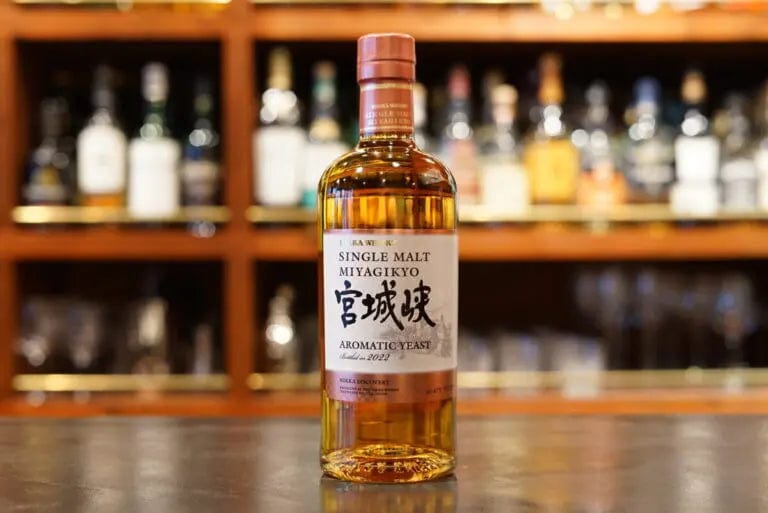 LP Wines & Liquors
Nikka Discovery Single Malt Miyagikyo Aromatic Yeast 2022
---
This single malt whisky has a subtle overlay of ripe apricot-like aroma, while utilizing the elegant opulence that is characteristic of Miyagikyo malt. The rich fruity sweetness harmonizes with the richness of the malt, and the soft malt and moderate peat provide a pleasantly balanced cask aroma that lasts.
This yeast produces a sweet and seductive aroma, like that of apricots. The original wine that makes the most of its power will show its true value after a few decades of aging.
However, this character is very sensitive, and if it exceeds a certain point, it becomes difficult to balance it with the original gorgeousness of Miyagikyo.
On the other hand, if it falls below that point, the aroma itself will disappear without a trace.
Therefore, the blender uses used barrels that have been aged for a number of years and have acquired a mild oaky character to achieve harmony.
A small amount of heavy peat was added to the blend to give a subtle peatiness to the wine.
The sweet fruity aroma rises with the gorgeousness at the top, and after the richness of the thick malt, the fruity flavor comes back again.
The strong character created by the ingenuity of the fermentation process is delicately balanced with Miyagikyo's character and asserts itself.
Summary,

Miyagikyo itself has fruity and elegant characteristics, but both the aroma and taste are more juicy and fruity than non-vintage.
Compared to the non-vintage, the woodiness does not come out so much, but it only comes out a little after a while after pouring into a glass, but it is just right as it lasts long and jiggly.
The character of Miyagikyo and the aromatic yeast are well blended.
---
Share this Product
---
More from this collection