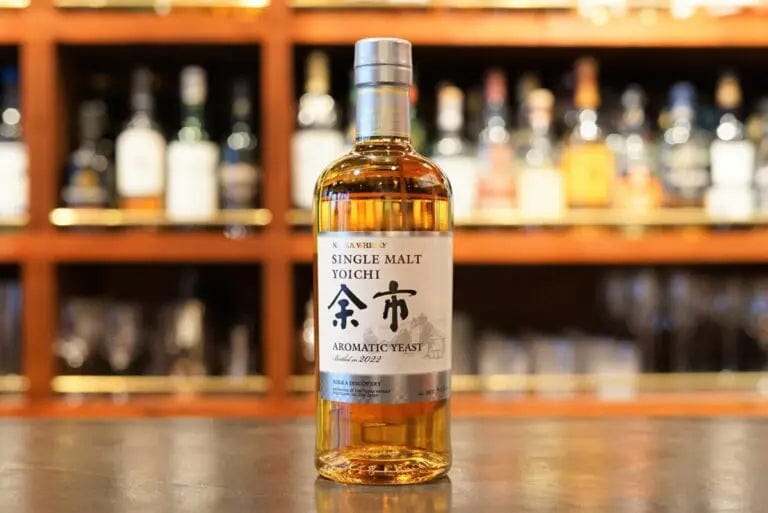 LP Wines & Liquors
Nikka Discovery Single Malt Yoichi Aromatic Yeast 2022
---
This single malt whisky has a strong, thick flavor from direct coal-fired distillation, a characteristic of Yoichi malt, and a fruity aroma of apples and bananas, with a hint of pear, reminiscent of ginjo. The fresh fruitiness and malt sweetness are firmly rooted in the richness of the peat, and the pleasantly sweet aroma and marmalade-like bitter-sweet aftertaste are pleasantly persistent.
The wide variety of aromas produced by the yeast during the fermentation process become the character of the many different types of sake.
Among them, the original sake with a floral aroma reminiscent of ginjo aroma stimulated the blender's creativity. Furthermore, they also focused on sake made with a yeast that produces an overflowing fruity aroma, and searched for a point of fusion with the peaty aroma typical of Yoichi.
After a process of trial and error, a rare original whisky that has been aged for more than 30 years in active casks was added to unite the fresh aroma and the heavy aroma, and a harmony as a whisky was reached.
The result is a fusion of Yoichi's original robust character and a floral, fruity flavor reminiscent of ginjo aroma. The answer to this challenging task has finally been found.
Summary,
One of the attractions of Yoichi Aromatic Yeast is that some of the component sake is aged for more than 30 years.
The aroma is sweetness first, as if it is aromatic yeast, followed by peat aroma slowly. The mellow aroma of Yoichi's peat and yeast combined with a mellow aroma gives a gentle and stylish impression that is a complete change from the strong impression of Yoichi until now.
---
Share this Product
---
More from this collection