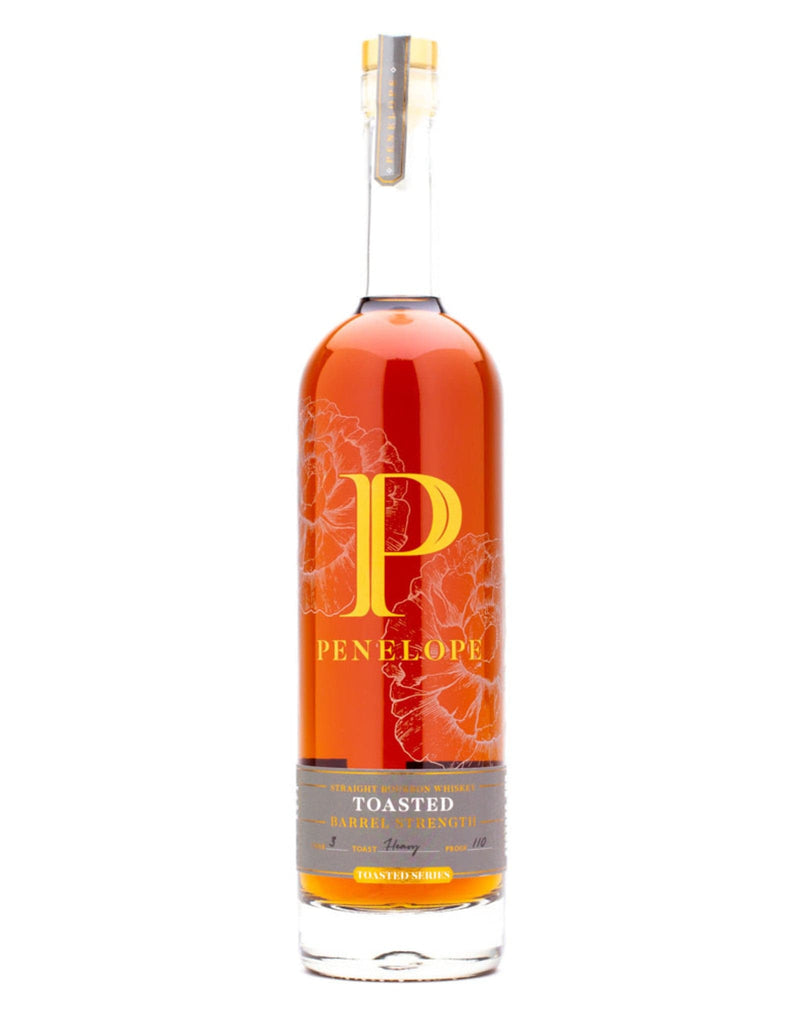 LP Wines & Liquors
Penelope Bourbon Barrel Strength Toasted 100 Proof 750ml
---
Toasted Series explores new and unique expressions of our signature four grain straight bourbon whiskey. After full maturation in charred new American oak barrels, we finish Penelope Bourbon™ in a new, freshly toasted barrel. Each batch is a unique blend of our signature three bourbon mash bills and all have different custom chars & toasts – making each bottle unique and different. The barrels selected for this series are the best our inventory has to offer and go through an extensive hand-selection process.
Nose: Every time I dip my nose into the glass, I find youthful, grainy notes. For being a bourbon that's at least 4 years old it, somehow smells much younger. There are scents of soot and charred wood – hardly the polished oak scents I was imaging before I ever opened the bottle. Behind this wave of "burnt" comes other scents like raw dough and burnt sugars. Vanilla is hard to find and I'm not really picking up on any fruits. Spices like cinnamon and pepper are raw and untamed too. We're not off to a good start.
Palate: For only being 100 proof, this bourbon is HOT. It easily tastes like it's 115 proof. The flavor is dominated by Cinnamon Red Hots candies up front with a bit of cherry and cacao nibs following. Then the dry, tannic, burnt notes begin to show up. Barrel char, charcoal, black pepper and burnt caramel. There is also a ton of raw corn. I don't understand why this bourbon tastes so young.
Finish: The finish continues its theme of being raw and hot. It's still got a pervasive soot that covers everything. Notes of burnt marshmallows and charcoal linger while the grainy nature of the bourbon continues.
Penelope Bourbon Barrel Strength Toasted 115 Proof 750ml
---
Share this Product
---
More from this collection