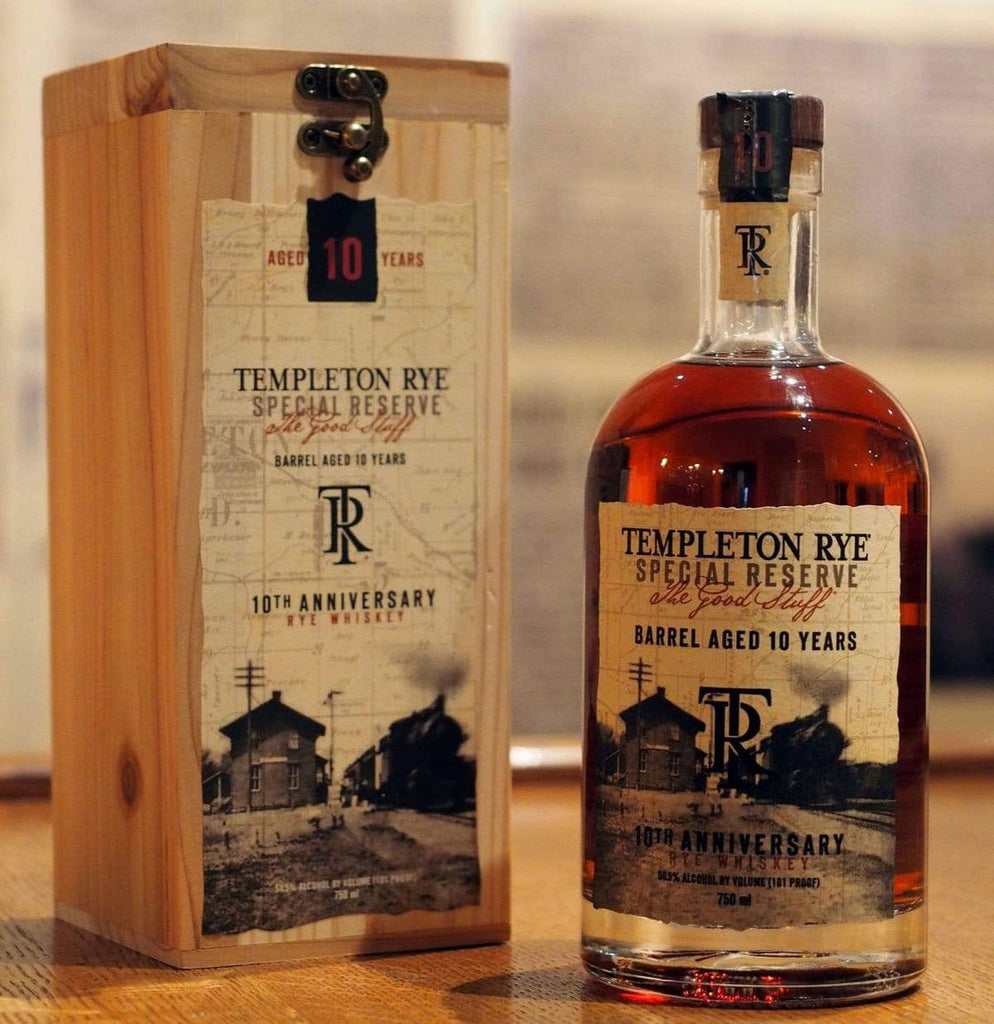 L&P Wines & Liquors
Templeton Special Reserve 10 year old Rye Anniversary Bottling
---
Templeton Rye Whiskey, introduced legally in 2006, honors its 10th anniversary with the launch of Templeton Rye Special Reserve 10 Year Old, a 10-year-aged collectors' edition of its finest product to date. Templeton has released just 6,080 bottles of this 101 proof spirit, made from 34 barrels, all packaged in a hand-numbered bottle and sold in a commemorative box.
The label of this Special Reserve features the iconic train that runs through the town of Templeton, Iowa. During Prohibition, enterprising local residents became outlaws, producing a high-quality, much sought-after whiskey known locally as "The Good Stuff," or Templeton Rye. They smuggled the product aboard livestock trains bound for Chicago and mafia head Al Capone, who reportedly considered The Good Stuff his favorite drink. Almost a century later, Templeton Rye reached the shelves of Iowa legally. Like all Templeton Rye expressions, Templeton Rye 10 Year Special Reserve celebrates the people and rich history of Templeton, Iowa.
Just last month, Templeton Rye announced that it will construct a 34,500 square feet distillery and two aging warehouses at its current 20-acre facility in the City of Templeton. The project not only increases the brand's investment in its namesake town but also keeps with Templeton Rye's long-standing tradition of giving back to the community. The new distillery is estimated to cost $26,000,000 and upon completion will employ approximately 30 full time employees in addition to the Company's current work force. Currently Templeton Rye Whiskey—the Company's hallmark brand—is finished and bottled at its Templeton, Iowa, facility.
"We're proud to celebrate a decade of Templeton Rye with such a high quality and exclusive, expression," says Keith Kerkhoff, Co-founder of Templeton Rye. "In addition to a collector's item, we see it as a tribute to all involved since the brand's inception and look forward to building upon our success as we move production home to Templeton, Iowa."
---
Share this Product
---
More from this collection