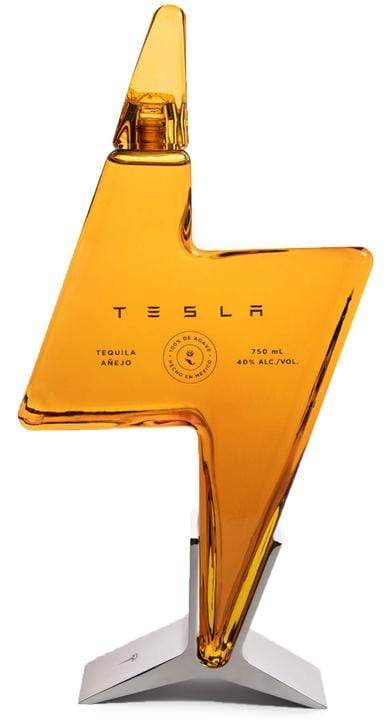 L&P Wines & Liquors
Tesla Tequila Anejo 750ml
---
Tesla Tequila, an exclusive, premium 100% de agave tequila añejo aged in French oak barrels, featuring a dry fruit and light vanilla nose with a balanced cinnamon peppermint. Stand and Tesla box included 
Tesla tequila anejo — Original taste and aroma
Pay attention to the bottle of Tesla tequila anejo. Its design is the personification of the well-known name under which fast, lightning-fast, electric cars are supplied to the automotive market. The California company Nosotros Tequila became responsible for the production of the product. Tesla tequila is poured into a 750 milliliter hand-blown container.
Thanks to which it will, without exaggeration, stand out among any collection of strong alcohol, however, you should not put the Tesla anejo far on the shelf. telsa tequila is worthy of attention, its aging is a fifteen-month contact of alcohol with a French oak barrel. 
The manufacturer notes the presence of dried fruits in the composition. With their help, telsa tequila became a smooth product with a balanced aftertaste of pepper and cinnamon.
The aroma of Tesla tequilla is no less pleasant - after uncorking the bottle, you will immediately feel the vanilla. One gets the impression that it was deliberately immersed in alcohol, but no, in a glass container of a unique design on a silver stand, there is an exclusively pure product of amber color without any impurities.
---
Share this Product
---
More from this collection